Have you ever made an entire meal out of appetizers? I have; once on a first date, the lady in question and I couldn't decide on just one appetizer to share, so we decided to order a number of them and forgo the entrees. That became a recurring theme for us – whenever we went out for dinner, we would order 4 or 5 appetizers to share.
That relationship didn't pan out, but my appreciation for appetizers remained. Here in North America, the terms "appetizer", "canapés" and "hors d'oeuvres" are used interchangeably, but traditionally, canapés and hors d'oeuvres are meant to be consumed on their own, without an accompanying entrée, which is actually more in line with my misadventure in dating.
Our canapés and hors d'oeuvres meal began with a lovely Ballymaloe cheddar (obtained from our friends at Everything Cheese and tomato chutney fondue, paired with a Giusto extra dry Prosecco, courtesy of Vines Wine Merchants. In contrast to a traditional cheese fondue, ours had a thinner consistency, but was still packed full of flavor. Served with French bread and sliced apples, the fondue was a warm, pleasant start to the meal.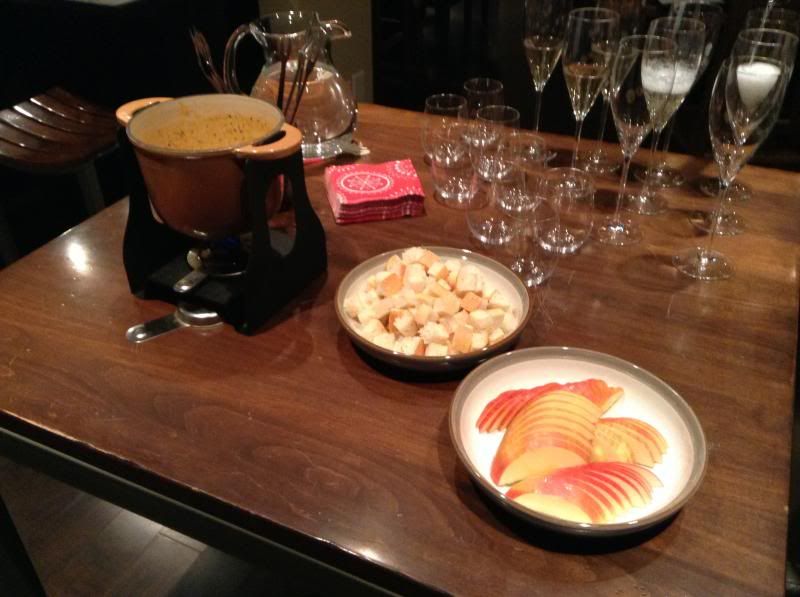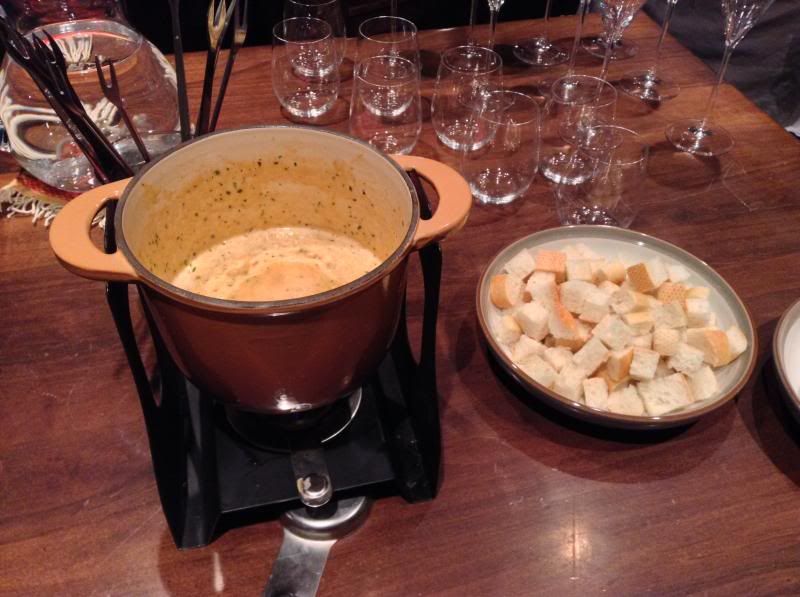 The fondue was followed by hard boiled quail eggs, served with Maldon sea salt and Hawaiian pink salt. Quail eggs do not taste significantly different from chicken eggs, but their smaller size lends a touch of elegance to any occasion.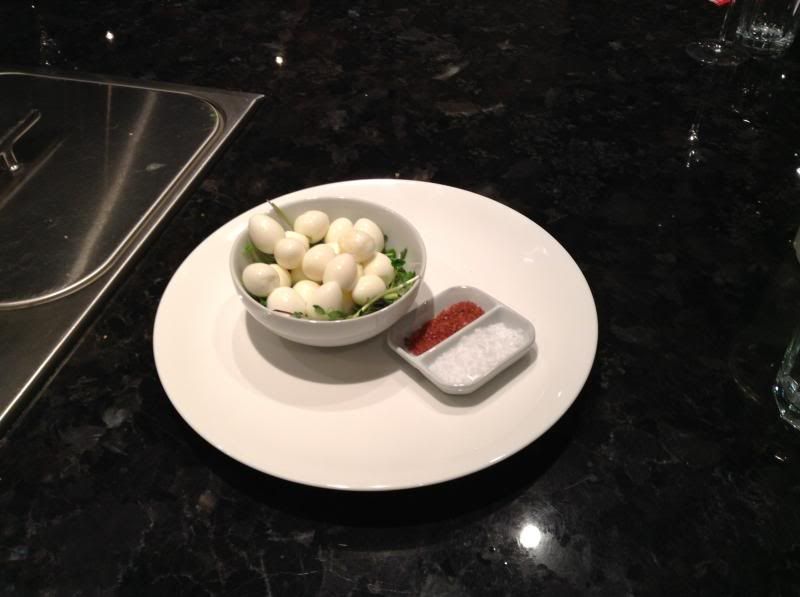 Next, we sampled a halibut ceviche, but unfortunately, I can't think of anything clever, amusing, or even particularly entertaining to write about that. Sorry, I'm having a bit of an "off" day.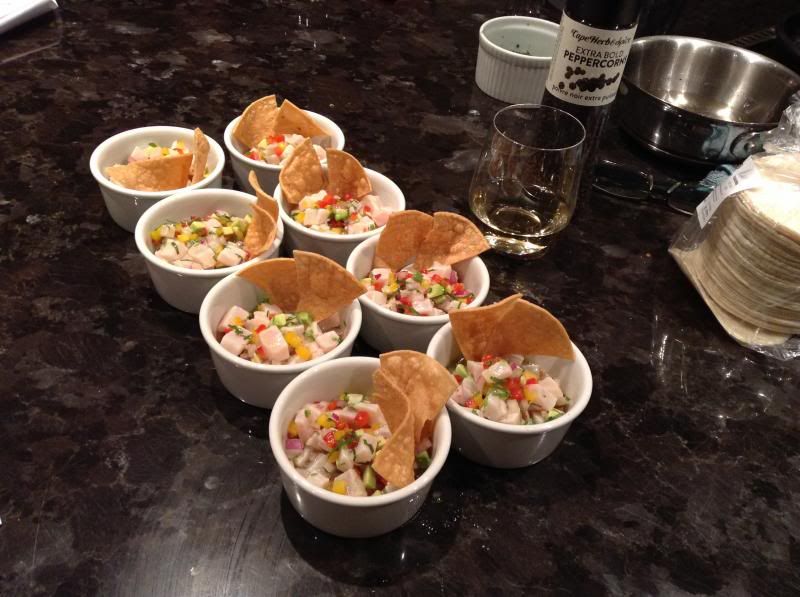 Our culinary maestro, Israel, treated us to his version of fish tacos for the next course. Filled with beer-battered shrimp and topped with chipotle garlic mayo and homemade pico de gallo, these fiery tidbits were a perfect way to stave off the chill of a cold winter's day in Alberta.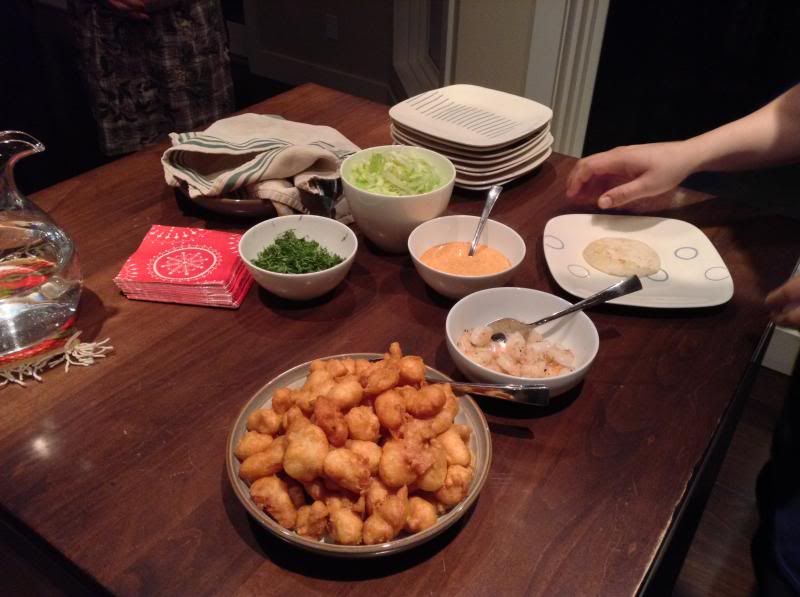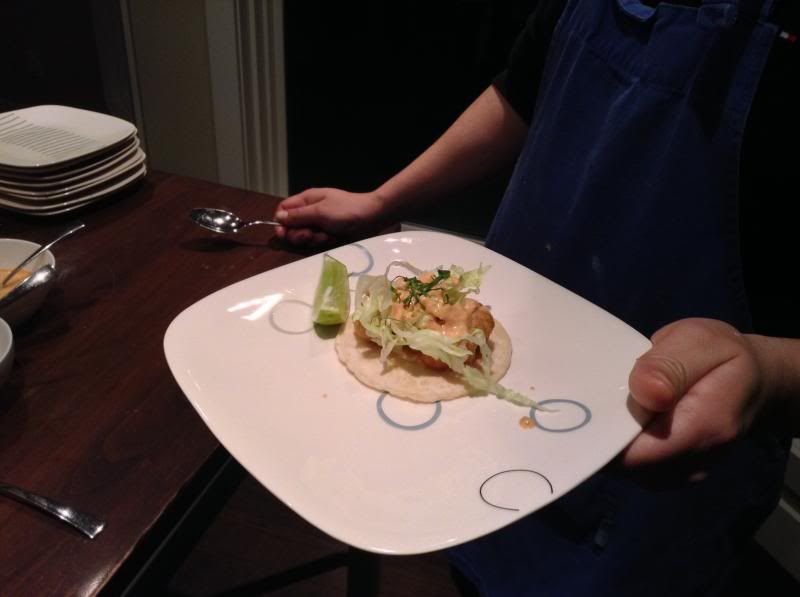 From an entirely personal point of view, I believe that nearly every meal can only be improved by including fried cheese, and this day was no different – deep fried camembert topped with fig preserves.

My favorite bite of the day was the next dish, seared beef tenderloin with horseradish cream. The flavors somewhat reminded me of Sunday roast beef dinners from my childhood, but elevated the to level of sophistication and elegance that I've come to expect from my employer.

Our finger food meal came to a close with pears wrapped in smoked bison, topped with arugula, parmesan cheese and balsamic vinegar. Sweet, salty and smoky in one bite.

If you've been paying attention, you will have noticed that I only mentioned one of the wines that were served throughout the day. I could offer a couple of reasons (fabrications) for this, but unfortunately, the truth is that I simply forgot which wines were served with the individual courses. In addition to the aforementioned Prosecco, Kathryn also uncorked a Comte Leloup du Chateau du Chasselor, 2005, and a Tommasi Arele Parziale Appassimento, 2011 at some point during the evening, both of which were also procured from Vines Wine Merchants.